Some people go all out for the holidays. Others take a more measured approach. Whether you just want a few small items to decorate for the holidays or you are looking for decor for every spot in every room, today's post is for you! I've got ideas for small and merry: holiday decor for every nook and cranny of your home.
An easy way to add some holiday decor is to fill a basket or crate with ornaments:
Take a basket or container you already have, or find an inexpensive basket at a home store or thrift store. Then fill with your favorite ornaments and tie a big bow around the handle. This is a small, but also festive, way to decorate for the holidays. It can go on a table-top or shelf.
Need a funky storage option for holiday cards?
How about repurposing an old rake?
I found this rake in my neighbor's trash pile! Once I cleaned it up, I found it was a beautiful cobalt blue color. I added a ribbon and put our holiday cards in the tines. All you have to do is lean it against a wall – the perfect card-holder for a small space!
Don't forget to add some greenery.
I bought these small wreaths at a craft store on sale, with a coupon (score!). I hung them from the window frames throughout our home with jute upholstery webbing held with a thumbtack. You could also just loop them around a curtain rod. They're a small addition but make a big impact on the windows.
Or tie one on…
The banister, that is! This faux holly branch with berries and ribbon came from a gift I received. I saved it and tied it around the banister for a small decoration. It's a little touch, but I see it every day!
One of my favorite colorful Christmas decorations is this bowl of Christmas apples on our coffee table.
My mom always had Christmas apples in a bowl on our coffee table at my childhood home, and now I've adopted that tradition in my home. I fill a bowl that's already out with these tiny red apples. It makes me smile and provides a pop of holiday color.
Roll out the red (or snowman) carpet for guests with a holiday door mat: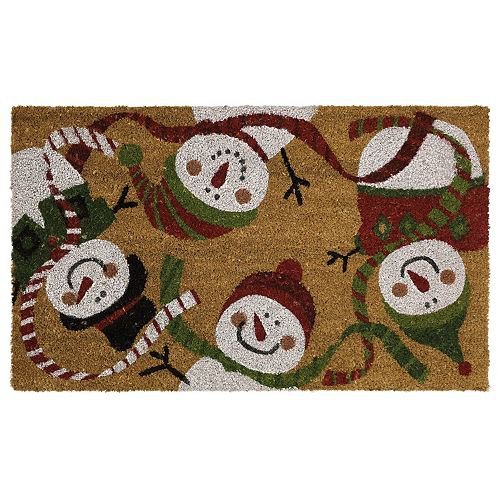 It's a small but festive way to greet your holiday guests.
Do you decorate every nook and cranny of your home for the holidays? Or do you just decorate a room or two? Please share in the comments! Happy Holidays!