Growing up in Tennessee, the Saturday after Thanksgiving was almost always reserved for decking the halls.  Come morning, I would scurry behind my mother up the stairs to the room over our garage that, nestled in the chilly confines of our attic, held our collection of Christmas treasures.  From clay snowman ornaments I'd proudly toted home from preschool years before to a cherished collection for holiday children's books, unpacking each box was like the scene from "A Christmas Carol" peering into Christmases past.
Whether you're a) eager to deck the halls this weekend, b) waiting later in December, or c) are the holiday overachiever who has already begun to fill her/his home with Christmas cheer, we wish you and yours happy holiday decorating!  In need of some motivation?  Peruse these Pinterest-worthy scenes filled with simple, stress-free décor designs for a festive farmhouse inspired holiday!
Shea McGee, one part of the husband and wife duo of Studio McGee, a Salt Lake City based design firm, posted the above ribbon-tied garland staircase as part of the couple's guide to holiday home decorating.  Three long stands of ivory ribbon and fresh greenery keep this look clean and classic.  37 weeks pregnant at the time of posting, Shea playfully remarked that while she'd hoped it would be her house she was featuring, "it ain't happening right now!"  Her eye for smart style and relatable honesty will keep us checking back for more this year!
Woman's Day Magazine posted this Pinterest sensation scene that is so simple to recreate in your own kitchen window, proving a little nature and creativity from the kids can go a long way!
Mommy blogger Ashely of Cherished Bliss created these budget friendly stockings with painter's drop cloth.  "All you need is a small drop cloth from the hardware store.  Unless you need to make an obscene amount, then you might need a big drop cloth.  But either way, $20 max for your drop cloth stockings!" she touted in her tutorial.
Thrilled to be asked to be featured in Jennifer Rizzo's Holiday Housewalk, blogger Nina Hendrick finished her dining room renovation project in record time and still managed to create a classic farmhouse inspired holiday inside her home before the shoot!  The rosemary trees featured on her kitchen island were picked up at the grocery store.  "They smell heavenly and bring in the perfect amount of color!" said Nina.  And the tartan island runner could be effortlessly recreated with a winter scarf.
A country-inspired Christmas tree with charming bears is as fun for the kids as it is for you!  The Ditz Designs By The Hen House's High Mountain Bear Play Tree can be purchased ready to go from Horchow (and it's currently on sale)!  But why buy when you could easily recreate this look for less?
Another debut decorator from last year's Holiday Housewalk, Rachel of Maison de Pax, designed these dreamy angel wings out of vintage sheet music.  She then crafted the sign below out of scrap wood, reading "in excelsis Deo", meaning in Latin, "God in the highest", as a reminder of the reason for the season.  Lucky for us, Rachel also shared the full tutorial!
Another crafty creator, Ann of the blog On Sutton Place created these charming buffalo plaid pillows for her porch out of repurposed button up shirts.  You could search the local thrift store, scour your husband's closet for any worn out options or even buy inexpensive new shirts on Amazon.com like Ann did!  In the spirit of the season, we're blessed Ann kindly gifted us her tutorial for this festive find as well!
And for the finishing touch… create a cozy space effortlessly with one of our many luxuriously soft area rugs.  Neutral palettes, like shown in the styles below, fit perfectly with farmhouse style interiors and will blend in beautifully with holiday décor.  Not to mention, the high performance stain resistance fibers of our rugs are resilient against the aftermath of any holiday get together!
Pictured below is the Madison Pinnacle Area Rug in Granite from Mohawk Home, available on Jet.com.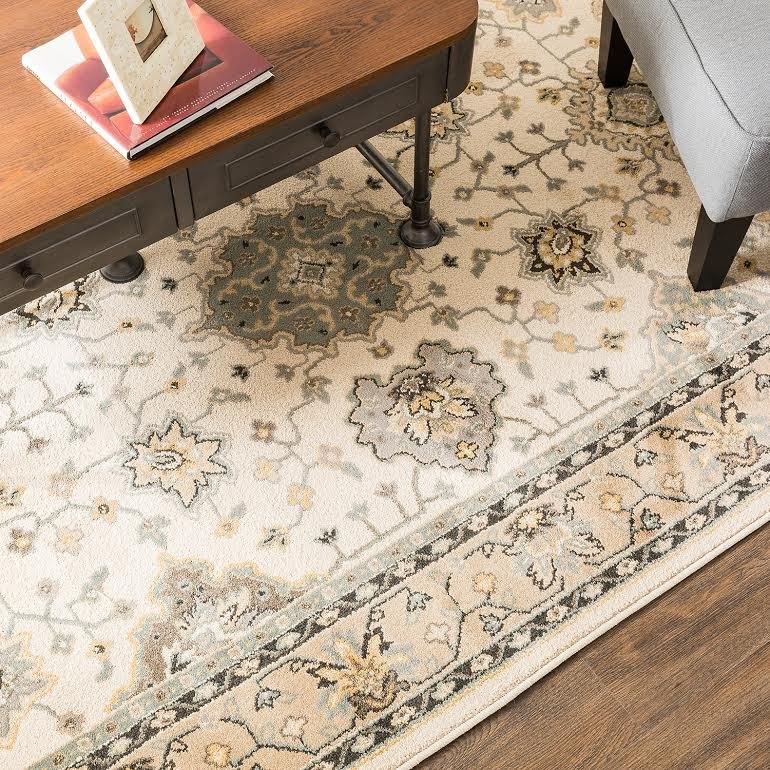 Pictured below is the Serenade in Farsa Gray from Karastan Studio, available at HomeDepot.com.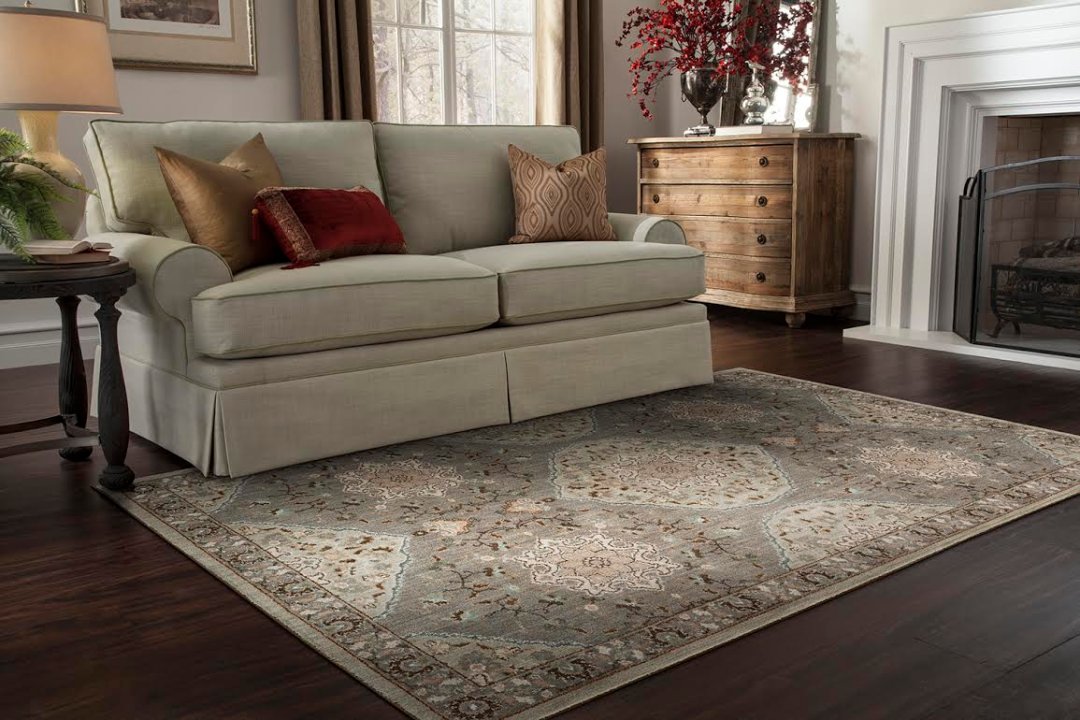 Pictured below is the Oceanus Area Rug in Gray from American Rug Craftsmen, available at Overstock.com.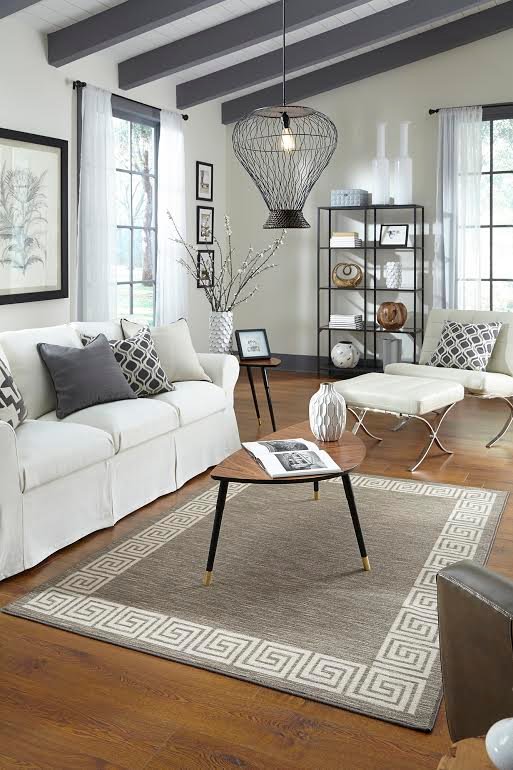 When do you start decorating for the holiday season at your house?  What are you doing differently this year?  Send us pictures- we'd love to see your style!